This time last year I was in New Mexico and we had just opened a cache of family stuff that had been packed away for years.  Not just the photos I keep mentioning, but papers and letters and scrapbooks and notebooks, old receipts,  ration cards, newspaper clippings, jotted notes. Lots of things looked like they could crumble into soft little scraps before I figured out their significance.
I insisted on opening up the boxes in the first place because I was looking for things about my great-grandfather, who was a writer. (He is the boy in this photo. And here is a short biography I wrote for him, on a site I'm slowly building. It should give you some idea why I'm fascinated with the guy.)
I was hoping to find manuscripts. Instead I was flooded with all these other pictures and relics that needed sorting, and it had to be done in the short span of my holiday visit. I would up spending an entire day in a spare room at my dad's house making piles of photos and trying to figure out who was in each picture. I had a terrible cold that was so bad I lost my voice, and the dust from the boxes felt like gravel in my lungs.  I was overwhelmed and exhausted and more than a little sad to be surrounded by all this family I never knew, whose histories I hadn't bothered to learn back when there were people around who could tell me about them. And then I kept picking up this thing, this bit of wood: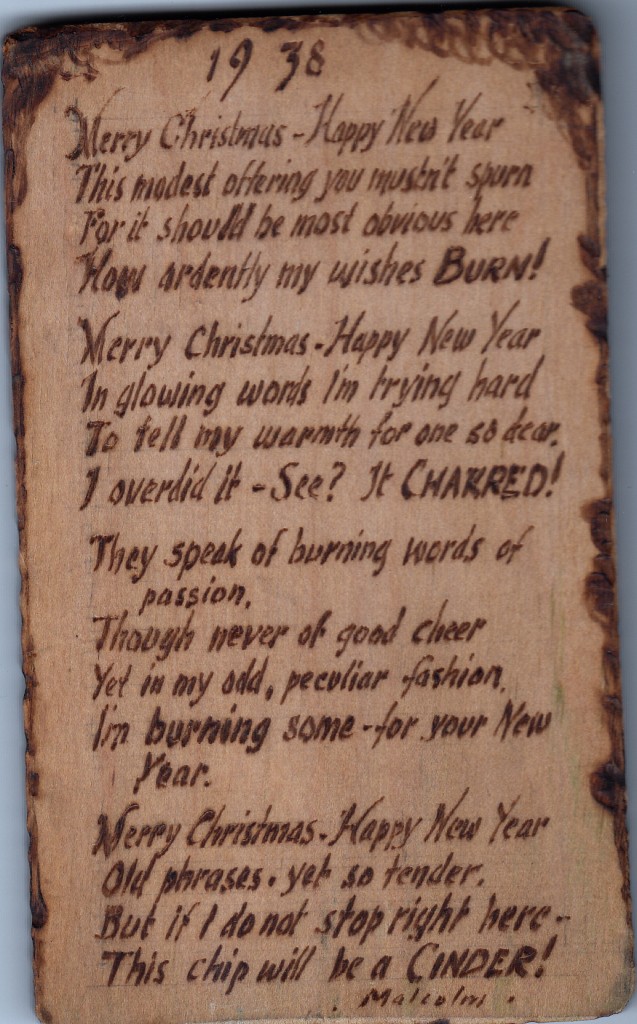 My great-grandfather Malcolm, living in New York City, had written these wobbly verses and used a heated tool (possibly a small icepick) to burn the letters. In the 1930s he'd devised a hobby where he'd copy antique maps onto wood using the burning tools and Mercurochrome paint. We had couple of the pieces he'd made in our living room when I was growing up. He'd sold a few of them, too. By 1938, though, he was starting to move on to another creative pursuit. He had published his first two stories in the magazine Astounding Science Fiction this year, and he had likely already sold a few others. He was just in time for what is now called the Golden Age of Science Fiction, though he wouldn't live to see the end of it.
He may have made this card for his wife (who is in the photo here); maybe he made others, too. It wasn't until I'd picked it up and looked at it for the fifth or sixth time, in the midst of all my desperate sad sorting, that I remembered that it was Christmas Eve. And that my great-grandfather was wishing me a merry Christmas and a happy future.