I first discovered the photo a year ago, in a trunk in New Mexico when I was visiting my dad for Christmas. It was with hundreds of other photographs—snapshots and portraits and cabinet cards and even daguerrotypes—in a collection I had never seen before, though they were family pictures. I took a stash of the photos back to Chicago with me last December, but this picture stayed behind, and it was only last month that I saw it again when my dad brought it. You can click on it to look closer.
These are the Jamesons. They are my mother's paternal family, my great-great-grandparents, Ammie and Joe Lee; the boy in the hat is Malcolm, my great-grandfather. The girl at the end is Vida, his sister. They are on the San Antonio River and it is 1893.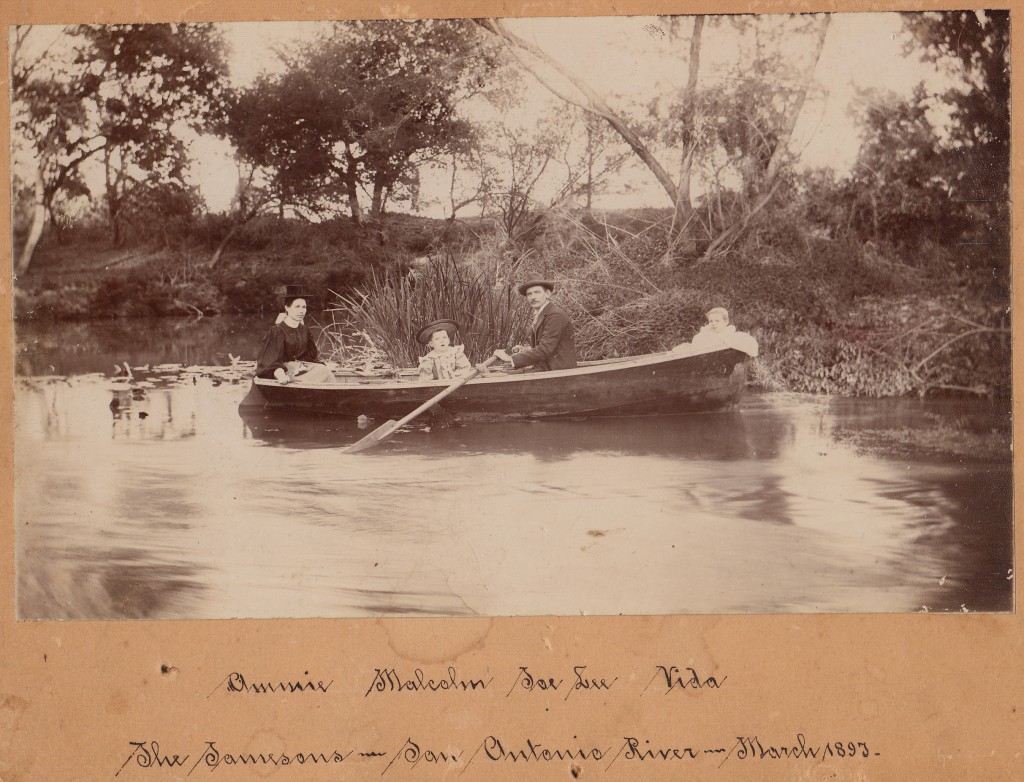 In 1893 they are in San Antonio because Joe Lee is the bookkeeper and steward at the Southwest Texas Insane Asylum. They live there, actually, on the asylum grounds in an apartment in the administration building. Other staff members live there, too, including, in 1896, the  superintendent, a Dr. MacGregor and his wife, who will be my other great-grandparents.
Later the Jamesons will move to Austin so that Joe Lee can work in the Capitol as the State Revenue Agent of Texas. Curiously, he will endorse a popular line of adding machines and his name will appear in hundreds of turn-of-the-century magazine advertisements that will come up in a search on Google Books. Thanks to scanned ephemera, his name lives on in a way he hadn't planned.
In Austin the Jamesons will live in a big house that they do not own, a tall, narrow mansion with ceilings so high that when Vida, age five, leans too far over the stairway banister, she will fall nineteen feet. Somehow she will survive the accident, but die a year and a half later, in 1900, from meningitis. I will find yellowed newspaper clippings, an account of the governor's wife draping ropes of violets over her casket.
I will at first wonder why Joe Lee left his government job to work for an oil company in Beaumont, Texas, until I figure out the connection to Spindletop, an astonishing geyser of oil that bursts out of the ground in 1901 and begins the modern oil industry. To pursue the opportunity, the family moves to Beaumont, to an address that Google Street View shows as an empty lot now. The address came from newspaper clippings, too, reporting Joe Lee's death, from typhoid fever, in 1904, at the age of thirty-four.
Joe Lee is buried back in Austin, in a plot with Vida and Ammie, who died much later. This spring I saw their graves and the place where the big house stood across from the Capitol. In a city where I'd never been, in the weedy grass of a cemetery, there were the stones of these people who sort of (for lack of a better word) belonged to me.
This is the story so far. I keep trying (and, I think, failing) to express what it's like to put together the pieces these people left. For no reason, really, except that the pieces are there, the scrapbooks and the photos and, sometimes, a detail that I remember hearing from my mother or or someone else. There are other pictures, of course, but this one really stays with me. I'm sure part of it is the nature of the photo—posed not as a portrait, but as a moment.  It makes me feel like I'm encountering them in a dream.
I think about how they stopped in the river to take the picture, to look across the water toward the bank, at all of us here on shore.