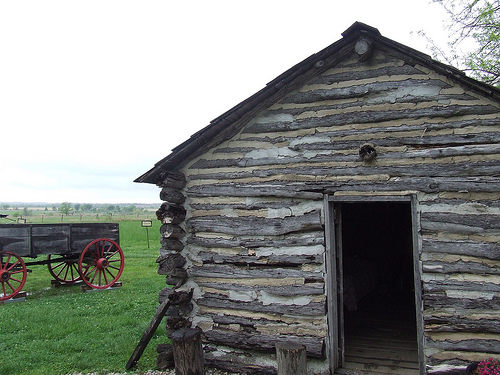 Last year I rediscovered my old childhood obsession with the Little House books and Laura Ingalls Wilder. This year I'm writing a book about it all.  I've visited the sites of Little House in the Big Woods and Little House on the Prairie and I've seen all manner of Laurarabilia at the Rocky Ridge Farm in Mansfield, Missouri. I'm making plans for another big trip out west in July to see the rest of the homesites, and in the meantime, I've been trying my hand at various nineteenth-century frontier activities, such as churning butter, frying salt pork, and playing with corn-cob dolls. And then I've been writing.
I'll be working on the book through the end of the year, and Riverhead Books will publish it sometime in 2010. The working title is The Wilder Life—don't know yet if that will change, but we'll keep you posted.
Some days the work is as fun as roasting a pig's tail, and other days it sucks like Plum Creek leeches. Either way I love it.
Would you like to help? I'm always interested in hearing about other people's Little House memories and experiences—anything involving the books, visiting the homesites, or even the TV show. If you're interested in sharing, contact me and I'll send you a very informal questionnaire. Then we can talk Laura until the cows come home, though we should really keep them from running over the sod roof of the dugout house.
I've also been taking photos and video of my research adventures and eventually I'll be sharing all of those, too. You can search using The Wilder Life tag on my Flickr site to see what I've posted so far. (There are many more where those came from.)
And if you still need an internet Laura fix after all this, you can always follow HalfPintIngalls herself on Twitter.