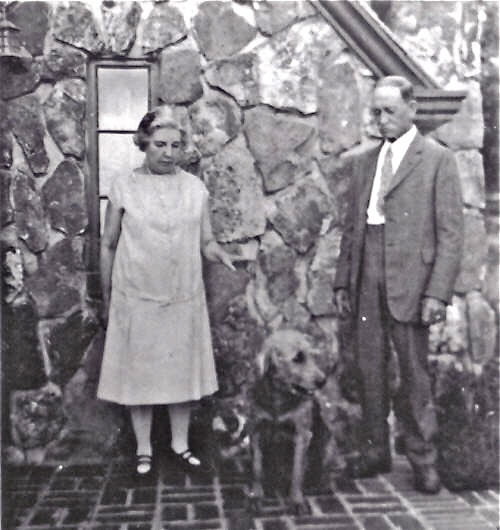 Laura Ingalls Wilder is 144 years old today.  Her husband, Almanzo Wilder, turns 154 on Saturday, so I'm putting up a picture that includes him, too.
This is one of my very favorite Wilder photos. Laura and Manly are only around 65 and 75 here, and they are standing with their dog, Nero, in front of the little modern cottage where they lived for several years in Mansfield, Missouri. Laura was working on the first Little House books by this point. She sent this photo to a fan, and explained that even though she and Almanzo are both looking down and appear sort of ashamed, they were really just trying to make sure the dog sat still.
I love her whole look here—her dress, her bob, her shoes. And oh God, I love that dog. They brought him along on a car trip from Mansfield to South Dakota (a 2500 mile drive!) in the spring of 1931, and Laura bought him ice cream. ("He loved it," she said in her travel diary.)
For a long time I couldn't quite tell Laura Ingalls Wilder apart from her fictional counterpart. While I've always loved the Laura of the books, I've been less sure about Bessie. (She went by that name throughout most of her adult life.) But this photo is one of the things that helped me know her better.
Happy Birthday to Laura and Bessie and Mama Bess, to Half-Pint and Flutterbudget and Mrs. Wilder.  Thank you for everything.