Five volumes of collected Malcolm Jameson stories are now available on Kindle and Nook from Thunderchild Publishing. These stories originally appeared in publications such as Astounding Science Fiction, Unknown Worlds, Amazing Stories, and Weird Tales between 1938 and 1946. These ebook collections include linked tables of contents and vintage illustrations from the magazines. Many thanks to Dan Thompson of Thunderchild for producing these!
The Fantastic Worlds of Malcolm Jameson
Fourteen stories, including some of Jameson's best-known work in fantasy: "Doubled and Redoubled," considered to be one of the earliest time-loop stories every written, and  "Blind Alley," which was the basis for the Twilight Zone episode "Of Late I think of Cliffordsville."
More details and purchase links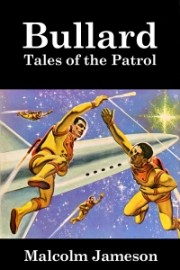 Bullard: Tales of the Patrol 
Jameson's stories about John Bullard of the Space Patrol are among his most admired. Anthony Boucher called Bullard "the most successfully drawn series character in modern science fiction." Ten stories are collected here, with a bonus essay by Jameson about military strategy in space. (Note that this collection differs slightly from Bullard of the Space Patrol, the fixup novel compiled from the stories and published in 1951.)
More details and purchase links
The Giant Atom 
Six great stories. "The Giant Atom" first appeared in Startling Stories in 1943 and was re-published in 1945 as the paperback novel Atomic Bomb. Other stories include "Eviction by Isotherm," Jameson's first story in print, which appeared in Astounding in 1938.
More details and purchase links
Anachron, Inc. and Other Stories
There's traveling salesmen, and then there's time-traveling salesmen! The stories in the Anachron trilogy are among the first time-travel adventures to work with the parallel-universe concept. In addition, seven other stories are collected here, including "Murder in the Time World."
More details and purchase links
Blind Man's Buff and Other Stories
Eleven tales of interplanetary adventure. Crooks on Mars, bizarre life-forms on Venus, and gambling in space! Includes "Alien Envoy," "Lillies of Life," and "A Question of Salvage."
More details and purchase links