If you've been reading this site for a while, you know Igigi is my jam. I've worn their dresses to trade shows, on my book tours, at speaking engagements, and my own wedding. Next month I get to review another piece at Weetacon and I've picked the three things that I most want to try (and then it's up to the Igigi angels to choose which one they'll bestow upon me).
Here they are, roughly in order of most to least coveted, though of course I YEARN FOR THEM ALL:
1. Isadora Dress.
Aside from my wedding dress, this is the dressiest thing I've ever considered from Igigi.  I bet that with some tights I could wear it to work, but it's first and foremost a Feeling Pretty kind of dress, great for nights out, wedding guest duty and so on. I know, the fact that it's black puts it definitely in the fat girl safe zone, but that's sort of the point—to be dressed up in a way that feels comfortable. And the black makes you feel intriguing in a very noir way.
2. Luella Infinity Tunic
Luella Infinity is my favorite sci-fi comic book heroine and she has the best space uniform. Seriously, though, I love the structure of this, and I appreciate that it has cleavage coverage. Igigi doesn't do a lot of separates, and then only a few of them speak to me, but when I find one that does, I wear the hell out of it. I have a good feeling about you, Luella Infinity.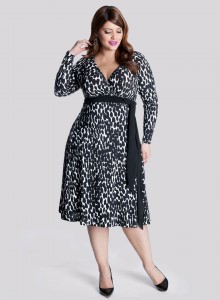 1. Neve Wrap Dress in Abstruse Dot
First off, how do we pronounce Neve? Is it like "neeve" or "nev" or "neh-VAY?" Please advise, Igigi. Oh, but never mind: you had me at "Abstruse Dot." ABSTRUSE DOT. Dots of mystery! I can always use another great wrap dress, and I don't have enough patterned stuff. And that long sash thing piques my interest. Also, I believe Abstruse Dot is the nemesis of Luella Infinity, a super-villain who hurls riddles and enigmas. But hey, they both look awesome when they fight.
Of course, Igigi will decide which one wins out in the end. And when I get my piece, I'll wear it and review it right here. What would you wear?