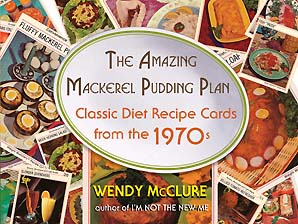 The Amazing Mackerel Pudding Plan
Classic Diet Recipe Cards from the 1970s
Amazon | Barnes & Noble | IndieBound | Powell's
The notorious 1974 diet recipe cards, originally posted on Candyboots.com, in full-color, full-frontal glory!  Over 100 recipe cards with commentary.
From Amazon.com:
"Several years ago, while dutifully helping clean out her parents' basement, Wendy McClure struck comic gold when she discovered an intact and well-preserved collection of Weight Watchers Recipe Cards from 1974:
They were neatly arranged in their own plastic file box. Plenty of the dishes seemed normal enough, but as I flipped through them, some of the recipes began to alarm me. And then I found the card for the Rosy Perfection Salad. I fell over. I laughed so hard I started coughing, and I fell back on the floor and I waved the card at my mom, who just rolled her eyes. 'Can I please have these? Please?' I begged. 'What do you want them for?' she asked. 'To cook?' 'No,' I said. She let me have them. I think they might have been my grandma's, but she never copped to actually buying them. Nobody else did, either.
What McClure unearthed were astonishingly grim, unintentionally hilarious recipe cards (sample dishes: Aspic-Glazed Lamb Loaf and Snappy Mackerel Casserole) containing no nutritional information but illustrated with eerie photos clearly staged by a props department not averse to self-medicating. Compelled to share her discovery with the world, McClure posted the cards on a website, framing each with her own side-splitting and appropriately warped comments. The Amazing Mackerel Pudding Plan–a titled borrowed from one of the myriad improbably named recipes contained within–unleashes the entire god-awful collection. No review can quite capture the horrors of the recipe cards or the genius of McClure's riotous quips. Suffice to say these are milk-through-the-nose, tears-down-the-cheeks funny and a striking reminder of just how bent the 1970s were. Worth the price for the Molded Asparagus Salad and the Stuffed Apples Ganges cards alone." –Kim Hughes