So sometimes I miss the days when you guys would leave blog comments, and I know some of you miss the days when I would talk about being a Plus Sized Lady. (Or, to borrow from my one of my favorite plus- size-store-names, a Forgotten Woman. Who wouldn't want to shop at a place that sounded like a 70s Jill Clayburgh divorce film?)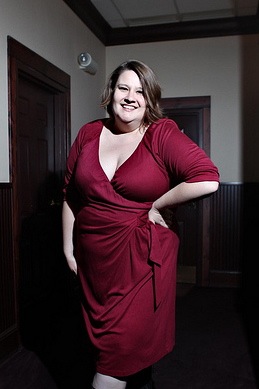 Anyway, earlier this month I went to Weetacon and took part in what can only be called a FASHION EXTRAVAGANZA sponsored by Igigi, because what else can you call it when you and a dozen of your friends agree to pick a dress to review, only to find out that you actually got three dresses? I already own a few things by Igigi (whose name sounds like a sultry art house film), so I was happy that I got to try these.
My first choice was the Isobel Dress in Garnet. My experience with wrap dresses is that true wrap styles look the best but are complicated to put on, like fashion origami. Isobel is a mock wrap style—a pullover dress with a front panel that ties at the side. So while I like that it's
simple, the fit felt a little slouchier than the other two dresses And like a lot of wrap and especially Igigi dresses, it's low cut enough to be conspicuously va-voomish unless you wear a camisole under it (see more demure look at left). Otherwise it's definitely not an office look, at least not unless you work for a Bond villain or Sir Mix-a-Lot. For a dressed-up look it's extremely comfortable, and I'll probably wear this to one of the book events. If I'd found this dress while shopping I think I would have been sold on the color more than the fit.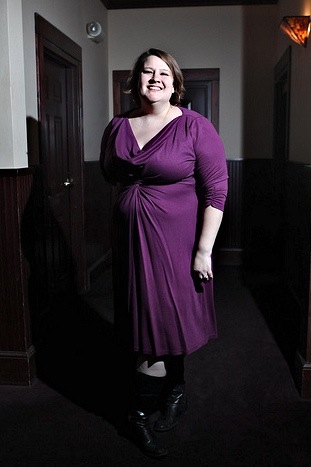 The other two dresses I picked out were the Tres Chic dresses: one in Plum, and one in the original black-and-white pattern. For the purpose of the review I'd decided to take  a gamble with these: I wasn't sure about the front-gathered look or the kind of Abstract Expressionist-meets 80s-crazy pattern. But they turned out to be my favorites—especially the black-and-white one, which has a little bit of a retro thing going. It makes me look exactly like the grown-up I wanted to be in 1981, which I believe was some fabulous art gallery owner kind of person.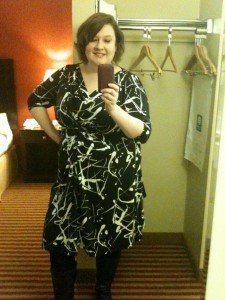 What I dig most about these two dresses is that they flatter like a wrap dress without the camisole issue. You'd think that it wouldn't be a big deal to just add a camisole, but in my current organizationally-challenged non-fabulous-art-gallery-owner life, it's one more thing I have to find in my closet. Too many times I've forgone wearing a dress or top because I couldn't find something to wear under it. So I appreciate that the Tres Chic dresses work all by themselves, and I have a feeling that between important work stuff and the book events I'm going to wear the hell out of these.
Remember what I said about the comments? I mention it because Igigi is letting me do a $50 gift card giveaway in this comments. Just go to the Igigi site, find something you love, and then come back here and post the name of the item and a lovely pithy description of how and where you would wear it (KEEP IT CLEAN, FOLKS). Do it by April 7, 2011 and winners will be picked at random. FURTHERMORE you can visit the Igigi reviews of all my fellow Weetacon ladies and post in their comments as well for more chances to win.
(And if this random-giveaway-in-the-comments business works out, I might use it in the near future for a certain book. Just saying.)
Photos at right by Jorie Tappa. Photos at left taken in the mirror with my phone.